For some people, the bedroom is for sleep and nothing else. For others, the bedroom is a comfortable, cozy safe haven—somewhere they can go to unwind, read a good book, and snuggle in bed with their loved one. This article is for both kinds of bedroom relaxers—ones that want to imbue a bit of their own unique, colorful personalities into their sleep space.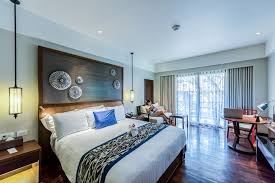 Create a Collage of Pictures, Posters, and DIY Artworks
Do you paint or draw or take lots of pictures of your loved ones and interests? Print em' up and stick them collage-style on your walls. Or, sticker your walls with posters, drawings, paintings, or anything else you love. What you have an interest in should be a big focal point in your room. Love autumn? Love cats? Love something obscure and kinda oddball? Use anything you love to inspire your bedroom décor.
Go with Dark Black-Out Curtains
While your bedroom can be bright and as colorful as you can stand, your curtains should be dark with a black-out feature. Drape all of your bedroom windows. While sunshine is great, you don't want the sun to stream into your face when all you want to do is sleep in on the weekends. Get a sash for when you want to pull your curtains back to let a little sunshine in. Or, you could invest in a little window tinting for homes to permanently block a portion of sunlight from streaming into your bedroom.
Choose Comfort Over Aesthetics
When it comes down to the bed that is the most comfortable and the bed that looks the best, go with comfort over aesthetics. Being comfortable in your bedroom is far more important than the color or style of anything. A plush, plump, awesome bed will make you happier anyways. Load it with your favorite blankets, fluffed pillows, and crisp, clean, fresh sheets. You can find many great and comfortable items online, and save money on your shopping with Hayneedle coupon codes .
Go Light on Meaningless Accessories
Meaningless accessories are usually impulse buys or something you purchase because you thought it was cute. It serves no purpose than to catch your eye sometimes. Go light with these kinds of accessories. Instead, use accessories that mean something to you or have a purpose, like an owl-shaped wax warmer or a pumpkin-shaped rug. You know, things that can represent things you love while maintaining a purpose.
Your bedroom, no matter how you view it, is a special place. It's where you get the best rest and relaxation at the end of your day. Follow the aforementioned interior décor tips to add a bit of your awesome personality to your bedroom.