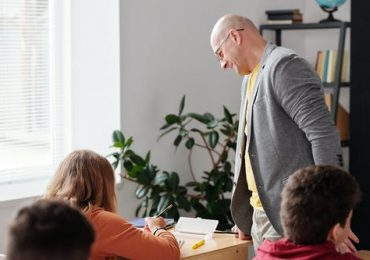 We all have to make several difficult decisions in our life that sets the direction of our future. Career choice is a milestone, and it paves the way for people's professional development. The modern world has bestowed innumerable career choices to students. Thus, many people feel overwhelmed with multiple choices when the time arrives and confuse them with numerous career paths. Most people want to take up a profession that promises financial stability and fuels their passions. The field of education has expanded considerably, and many people take a keen interest in making a career in education. Aside from other education subfields, an increasing number of people are opting for special education.
Special Education
Special education is the name given to the educational services that educators provide to differently-abled students. Children with some disabilities need additional support from their parents and teachers. Educators need to have different strategies to help them acquire knowledge. Special education has taken up the shape of a full-fledged field. Educators need to possess some special skills that enable them to deal with these children. 
People often enquire about specific degrees related to special education. Applied Behavioral analysis refers to the science of learning behavior and concentrates on enhancing children's particular abilities. People who are inclined to take up a special education profession can register in ABA special education courses to earn a degree. The course equips them with skills that assist them in understanding the needs of disabled children and tailor their educations accordingly.
A rise is visible in people taking up a special education career; several people still look for inspiration. Some of the reasons to opt for a career in special education are as follows:
One of the unique benefits of making a career in special education is that it gives people satisfaction that they give back to the community. Through their profession, they get a chance to help differently-abled children earn an education and become important citizens. Educators play a vital role in students' life. Still, when it comes to special education teachers, their role becomes highly significant as these children rely heavily on their teachers. Many people who want a rewarding career opt for special education as it gives them a chance to serve humanity.
An alarming rise in special needs children is visible. More organizations are popping up specifically to cater to disabled children. Due to a shortage of teachers, special education certified teachers are in high demand. The modern job market is competitive, and people find a hard time landing a job even after earning a degree. Special education certification gives people the satisfaction of easily getting a job in reputable institutes after finishing their course. Moreover, special education teachers also get job security.
Pave Ways for New Opportunities
A special education degree does not confine people to one profession and offers many career paths. With special education background, people can make a career outside the educational institute setting. They can serve as state supervisors, case managers, non-profit directors, or program coordinators. Some people can become CEO of NGOs or venture into curriculum development for SEN, special education needs. In addition, people can earn specialization in a specific special needs area and help children meet their needs.
Build Stronger Relationships
Special needs children are different from others and show care for people in unique ways. They cherish their relationships and build stronger bonds with their teachers. Special education teachers deal with relatively smaller classrooms and fewer children; thus, they know their students better. Special needs children's parents do not see their kids' teachers as educators; instead, they consider them an ally to enhance their child's life. In some cases, special education teachers work with the same students for years and build firmer bonds with them. Disabled students require individual attention, and their teachers have to come down to their level to understand them and make them know.
Another striking reason to go for a career in special education is that it provides opportunities to be lifelong learners. No two days or two special needs children are ever the same. Even the same student gives the teacher new challenges every day. They have to figure out their needs, like having to solve a different puzzle daily. Special education teachers continue to learn with students as they constantly tailor their pedagogy according to their students' requirements.
Most people want to take up a profession that has high-earning prospects and allow them to progress. Special education teachers make relatively higher than their regular counterparts. Aside from regular pay, in many states, they also get benefits. Furthermore, organizations are willing to pay them more and offer them greater benefits due to a shortage of special needs children.
The world has turned into a global village. People want to earn a degree that is recognized in most countries. Special education is not limited to any state or country. Degree holders can easily land a job in other countries. If people can shift to another country, special education certification will not put chains on their feet. Instead, it will help them acquire a job even in a foreign land.
Conclusion
Special children are difficult to handle, and teachers need to exercise patience and demonstrate perseverance with them. Regular educators do not possess the ability to deal with differently-abled children as their needs are varied. Moreover, not all special needs children are the same, and they may have different requirements. Special education teachers have proper skills and can tailor their teaching approach according to students' needs. A career in special education gives people satisfaction that they are making a difference in society while earning handsome amounts. A career in special education is challenging yet provides ample learning opportunities to people.