Four or five years back, I didn't even know what online shopping is. It was like- never heard of it so neither used it. For me, and for many of us Indians, shopping was an occasional procedure of spending time in the market, itinerant all around the shops and bargaining with the shopkeeper. That's us and those are the Indian way of making the deals. But the time changes and so do the lifestyle. Now shopping is just a matter of few minutes internet surfing. Visit few among loads of websites and get what you wish for. Many web portals to compete among one another gives the option of comparison for each product for the price and specification of product. Now you don't have to look over the stores or newspaper pages for ongoing sales in the city, all the discounts and offers are just some clicks away.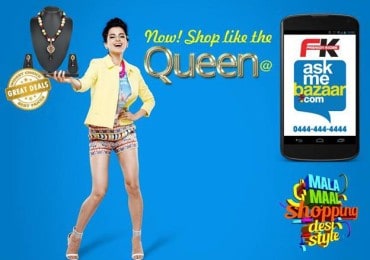 AskMeBazaar Presents DealGuru
AskMeBazaar is also one of those time saving shopping sites known for online retailing in Indian style. AskMeBazaar has held it very well giving exceptional deals on various products. And one of its recent branches, DealGuru has been known for deals which are even hard to imagine. Buyers are getting 80 and 90 percent discounts on the branded products. And it is not all, these discounts are on every type of product, whether its electronics or fashion accessories. Is it possible? Or are these all just fake products pretended as branded ones? Well let's find out.
DealGuru: How Things done?
What exactly DealGuru do and how does it came with such big discounts at merchandises of such big brands? I know it's hard to believe at first but guys, it's true. The products sold at 80 or 90 percent are absolutely genuine. How AskMeBazaar has come up with an idea so great for buyers? These goods are nothing but those unsold items which are made in excess. Manufacturers around the country have products which are made in excess and aren't sold anywhere on retail stores. But don't doubt the quality of the product just because it's an unsold item. The products are in excellent conditions. There are people around who wish to buy products that are stocked out in the market because of low demand. AskMeBazaar has made a bridge between those buyers and the sellers providing one platform for all this kind of products.
How to Deal on DealGuru?
The website user interface of DealGuru is very user-friendly. Few clicks and you will purchase an awesome product for yourself with a price tag that would surprise you as well as your family members. Then the ordered product will get shipped and will be delivered to you in few days. Now here is the best part: if you found your product defected or exchanged with any other product, just call the AskMeBazaar customer support and they will arrange a return of the product immediately.
DealGuru has gained trust around country because of the AskMeBazaar services and this new scheme is supposed to go far in terms of buyers and revenue.
Checkout Kangana Ranaut Ads On you tube promoting DealGuru.