The elegant V8 Vantage is one of Aston Martin's most pumped up sports car. Though the 2018 Aston Martin V8 Vantage remains unchanged, it radiates the sporty feel the lineup is known for. The grand tourer delivers a package of the personalization-enabled interior, quality ride, responsive steering, and a great deal of adjustability.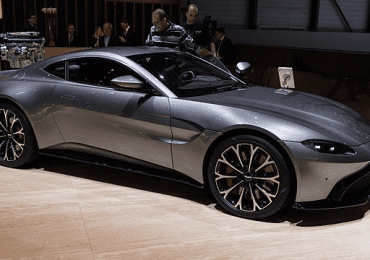 Aston Martin Vantage 2018 features a mighty 4.0-liter V8 engine . It is paired with a 6-speed Automatic transmission. Unlike competitors, which boasts dual-clutch transmission units, V8 Vantage gets a single-clutch transmission. It is priced at $152,820 which is quite lower than the Italian exotics.
What'll impress you?
A greater degree of maneuverability

Powerful V8
What won't
A bit overpriced

Dated interior

Lacks some contemporary features
What's new?
Nothing new is introduced to the 2018 make of the Aston Martin V8 Vantage.
2018 Aston Martin V8 Vantage Trims and Features
Compared to the non-S model, Vantage S boasts a better torque delivery, which is more aggressive and straightforward. 2018 Aston Martin V8 Vantage boasts a single trim, pricing for which starts from a little over $150k. The sports car comes equipped with the AMi II Infotainment system. You can track tire pressure and temperature in addition to power and torque delivery via the AMi II.
2018 Aston Martin V8 Vantage comes with a galore of standard features. The grand tourer boasts LED clear rear lamps with black headlamp bezels, OEL displays, and a sturdy body composed of heavy-duty materials; aluminum, magnesium alloy, and steel.
Performance
Thanks to the big 4-liter V8 engine, the Vantage gives out an impressive engine output of 503 horsepower. The 505 lb.-ft. of torque is average in the segment with the 6-speed, single-clutch automatic transmission a kind of novelty. Power is distributed throughout the ride via an effectual rear-wheel-drive system. With a requirement of 4.2 seconds for shooting to 60 MPH, 2018 Aston Martin V8 Vantage is among the fastest cars, albeit not the fastest. Though the V8 engine is mighty, it is also throaty and thirsty. As such it limits the combined fuel economy delivered by 2018 Aston Martin V8 Vantage at a 14 mpg.
The V8 Vantage offers 18 mpg on highways and a mere 12 mpg while roaming cities.
Aston Martin V8 Vantage is a compact, sleek ride with an astonishing ground clearance of 5.7 inches. On the outside, 2018 Aston Martin V8 Vantage boasts a racy styling. As soon as the sight traces the exterior, you could feel the sporty feeling surging over. Although bulky, the ride maintains the exotic look and driving feel of Aston Martin rides.
The interiors of the Aston Martin V8 Vantage invoke a mixed feeling. On the plus side, it is first-rate and boasts crafting from premium Aston Martin leather and elegant design elements. Steering wheel along with some controls and switches looks kind of ancient relics, adding to the downside of the V8 Vantage interior. The cabin is airy and elegant.
10.6 cubic feet of cargo volume with 42.8 inches of front legroom are above average numbers for the V8 Vantage. The ride flaunts the AMi II infotainment system, which is good but not great. It comes paired with an exquisite 1000-watt Bang & Olufsen BeoSound audio system, satiating all audiophile requirements with ease.
Safety
The V8 Vantage doesn't have any IIHS or NHTSA ratings. This is normal for the sports car segment. For ensuring safety and reliability, the sports ride, nonetheless, comes with a number of safety features.
Along with multiple, multi-way airbags and the mandatory ABS and DSC systems, has cruise control and traction control. It further comes with powerful HAS (Hill Start Assist), PTC (Positive Torque Control), and HBA (Hydraulic Brake Assist) features.
Cruise control

Dynamic Stability Control (DSC) with Track mode

Anti-lock Braking System (ABS) with Track mode

Electronic Brakeforce Distribution (EBD)

Emergency Brake Assist (EBA)

Traction Control (TC)

Hydraulic Brake Assist (HBA)

Positive Torque Control (PTC)
IIHS and NHTSA not rated
Final Verdict
At best, you can say that the 2018 Aston Martin V8 Vantage is old-school. However, that doesn't necessarily mean that it is old-fashioned, which, in fact, it isn't. Although the 2018 avatar of Aston Martin V8 Vantage is low on combined fuel economy, it isn't a big concern for the sports savvy. The big V8 succeeds in offering a mighty performance along with racing-fueled roars that one would definitely like a sports ride to have.